Contents
Browsing a site
When you're browsing a Wiclear site, you will quickly see the page is composed of several areas. The most important one being the content area. There are also
an edition area
a location area
a "sub-nodes" area
a toolbar area
a tool area
a syndication area
And you can have more area than this depending on the site's designer. He may want to show less areas, or show more. For example if you're browsing a site running the wikiblog plugins you will also have a calendar, a category, and an archive area.
Content area
The content area is the biggest area on the screen. It shows you the content of the page. You can use the edit link to edit it if you're allowed to.
Edition area
The edition area shows different link like "Edit content", "Add content", "History", "Subscribe". For example on this site it is located right above the content area.
Location area
The location area shows you where you are in this site. You can use it to quickly find your way in the content. For example on this site, it is located above the content area.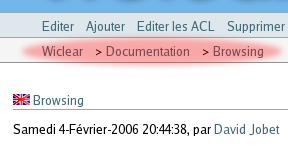 Sub nodes area
The sub nodes area shows you the pages that are "inside" the page you're viewing. If you remember the plan given in the Documentation page, you can understand what it does : it can helps you organize your pages to group related things together. It shows you a hierarchy. Just like you does when you organize your files and directories on your disk.
Toolbar area
This small toolbar allows you to search and quickly see which pages have been recently modified.
Tool area
This area shows you other usefull tools. For example you have a site plan, a browser for uploaded files ...
Syndication area
This area contains link to feeds. A feed is a special file in a special format that can be read by feed agregators. Usually web sites use feeds to announce recent changes (just like the "recent changes" link). Your aggregator can read those feeds and warn you when a site has been updated. The advantage of using an aggregator is to monitor several feeds : it saves you from visiting all the sites to know the news : the aggreator will do it for you, notifying you something has changed on all the sites at once.